Cycling as a family is great way to spend time together and explore your surroundings, so we've created a series of videos explaining the essential skills you need to cycle confidently. To celebrate these videos and the start of the summer holidays, we're excited to offer one lucky family the chance to win £250 in Love to Shop vouchers. To enter, simply share your family cycling moments and tell us why you love cycling.
How to Enter
1. Snap a photo of your family cycling adventure this summer
2. Explain why you love cycling in 100 words or less
3. Share your photo and caption on Facebook, Twitter or Instagram, tag us and use the hashtag #CycleMore2020
Need Some Help Getting Started?
Our short series of films, Essential Cycling Skills for Families, are designed to help you cycle together as a family more safely and confidently. Each film focuses on the different stages of a cycling journey and features the four core functions used in Bikeability training.
Terms and Conditions
The Promotion will run from 27th July 2020 up to and including 31st August 2020
To enter, participants must submit at least 1 image and a maximum of 100 words, describing why they love cycling, in response to the #CycleMore2020 campaign
The Prize Winner will be chosen by an independent panel of judges, appointed by the Bikeability Trust. All qualifying photos will be judged on adherence to the Promotion challenge through its message clarity, composition and overall presentation. Their decision is final.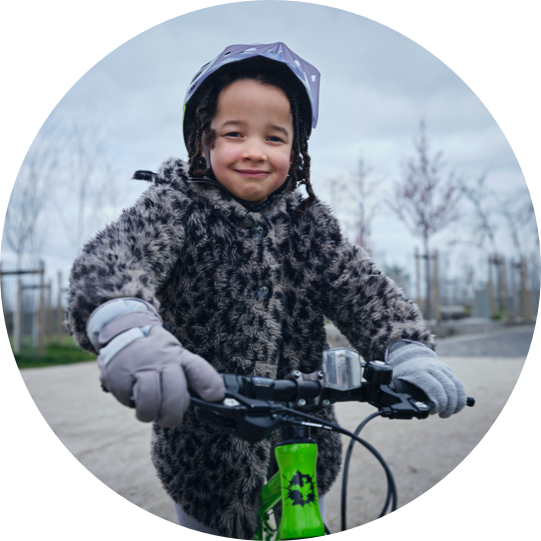 Stories from our Bikeability champions
"I feel really happy and relaxed when I ride my bike, and it's given me independence and freedom. "
Addison
"It really is a joy to watch our son Josh cycle with a big smile on his face and it brings a tear of happiness to our eyes."
Richard
"Cycling gives you the freedom you need when the world around you is locking down – free your mind, free your body and free your soul-build confidence, strength and do your bit to save the environment!"
Zoe
"Cycling has been our saviour this year, and feels like it was the only things that wasn't cancelled."
Sophie
"These sessions provided an excellent foundation. It helped to improve our confidence cycling on the roads. Very well experienced, professional and friendly trainers."
Bikeability Family
"Cycling is a real life skill. Something you only have to learn once and remember forever."
Donna
"We started family bike rides at the start of lockdown2020 as a way of keeping fit, and sharing an activity that the whole family can continue to enjoy."
Ellen
"Giving them the skills to feel more confident on the road is a great step for both them, and myself."
Emma
"Cycling for me is a way to get around; a way to exercise; but most of all it's a way to have fun together as a family."
Erica
"We went from "I don't want to!" To "Mummy, can you take me on a bike ride around the estate please?" Her bike has got her away from too much screen time and gained fun, fresh air and exercise!​"
Francesca
"The children are so happy, they feel so accomplished and they are, rightly, so proud of themselves. And we're so incredibly proud of them too."
Donna
"Using a bike rather than taking the car helps reduce air pollution. We are giving children the skills to make that choice easier and safer"
Hertfordshire Cycling
"I am so unbelievably proud of them. Here's to many more memories together as a family…on our bikes. Whoop Whoop!!"
JP
"It has been a tremendous help to gain the knowledge to comfortably ride on roads in the correct way and with confidence. Look forward to growing our journey with you in the future."
Juan
"I'm back cycling after a long break, I'm a bit rusty but got some wonderful hints and tips on this website"
Pammy
Let's find your closest cycling course
Join the Bikeability Club
Why not join our Bikeability Club for lots of advice about how to carry on cycling after Bike to School Week, plus newsletters, discounts and other competitions!
Please enter your email address