Transport Secretary Grant Shapps has today (13 November 2020) given councils across England a further £175 million to create safe space for cycling and walking as surveys and independent polls show strong public support for high-quality schemes.
The new money, part of the £2 billion announced for cycling and walking in May, will fund measures including:
'School Streets', where streets around schools are closed to motorists at school times
low-traffic neighbourhoods (LTNs), where residential side streets are closed to through traffic to stop rat-running
segregated cycle lanes
pedestrian improvements
These will give people more opportunities to choose cycling and walking for their day-to-day journeys, as part of wider government plans to boost active travel.
At the Bikeability Trust, we support active travel initiatives that help encourage children and adults to cycle more often and more safely.
We know from the 3.5 million children we have trained in Bikeability that cycle training gives them confidence, independence, and a mental and physical health boost.
Most parents we speak to are worried about road safety – our training can boost their confidence and, when combined with initiatives like pop up bike lanes and cycle corridors, ensure that both children and parents enjoy cycling as a lifelong skill.
Find out more about the Active Travel Fund and what it means for you in the below video, from the Department for Transport
Walking and Cycling Alliance welcomes government funding and addresses LTN myths
The UK's leading walking and cycling organisations are backing plans to get more people walking and cycling, as the Government today (13 November) announces the second round of its Active Travel Fund.
The Walking and Cycling Alliance sets out the urgent case for Low Traffic Neighbourhoods and uses evidence and case studies from across the country to tackle the urban myths that have emerged around them.
The WACA report – The Urgent Case for More Walking and Cycling – brings together leading voices in the active travel movement, including Chris Boardman and former Shadow Secretary of State for Transport, Mary Creagh, to answer frequently asked questions about congestion, and perceived effects on business, emergency services and local consultation.
In May, the government announced a £225m emergency active travel fund for councils in England to encourage people to adopt healthier travel habits, help social distancing and prevent traffic congestion. Funding was also made available by the Scottish and Welsh Governments to councils to implement walking and cycling measures.
Tranche 1 was for temporary Covid related measures, whilst today's tranche 2 is for longer-term projects that provide safe spaces for people to walk, cycle and wheel.
Speaking on behalf of the Walking and Cycling Alliance, Mary Creagh, CEO, Living Streets said:

"Everyone should feel safe to walk, cycle, wheel or scoot on our streets, but that is not the case in too many towns and cities. Across the country, there is a silent majority in favour of more people-friendly streets, but all too often their voices are drowned out by a vocal minority.
"It's vital more people start walking and cycling for local journeys, to reduce congestion, improve air quality and tackle the twin epidemics of loneliness and obesity.
"We hope this report will support councillors to build back better after the pandemic.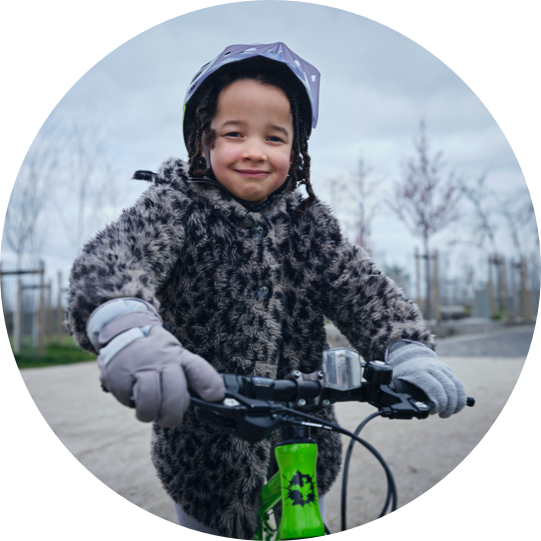 Stories from our Bikeability champions
"I feel really happy and relaxed when I ride my bike, and it's given me independence and freedom. "
Addison
"It really is a joy to watch our son Josh cycle with a big smile on his face and it brings a tear of happiness to our eyes."
Richard
"Cycling gives you the freedom you need when the world around you is locking down – free your mind, free your body and free your soul-build confidence, strength and do your bit to save the environment!"
Zoe
"Cycling has been our saviour this year, and feels like it was the only things that wasn't cancelled."
Sophie
"These sessions provided an excellent foundation. It helped to improve our confidence cycling on the roads. Very well experienced, professional and friendly trainers."
Bikeability Family
"Cycling is a real life skill. Something you only have to learn once and remember forever."
Donna
"We started family bike rides at the start of lockdown2020 as a way of keeping fit, and sharing an activity that the whole family can continue to enjoy."
Ellen
"Giving them the skills to feel more confident on the road is a great step for both them, and myself."
Emma
"Cycling for me is a way to get around; a way to exercise; but most of all it's a way to have fun together as a family."
Erica
"We went from "I don't want to!" To "Mummy, can you take me on a bike ride around the estate please?" Her bike has got her away from too much screen time and gained fun, fresh air and exercise!​"
Francesca
"The children are so happy, they feel so accomplished and they are, rightly, so proud of themselves. And we're so incredibly proud of them too."
Donna
"Using a bike rather than taking the car helps reduce air pollution. We are giving children the skills to make that choice easier and safer"
Hertfordshire Cycling
"I am so unbelievably proud of them. Here's to many more memories together as a family…on our bikes. Whoop Whoop!!"
JP
"It has been a tremendous help to gain the knowledge to comfortably ride on roads in the correct way and with confidence. Look forward to growing our journey with you in the future."
Juan
"I'm back cycling after a long break, I'm a bit rusty but got some wonderful hints and tips on this website"
Pammy
Let's find your closest cycling course
Join the Bikeability Club
Sign up to our Bikeability Club newsletter for inspiration, advice and support to continue your cycling journey.
Expect the latest news, special offers and exclusive competitions – straight into your inbox!
Please enter your email address