The Bikeability Trust is a Charitable Incorporated Organisation with the vision to ensure everyone has the confidence to cycle and enjoy this skill for life. The Trust manages, develops and promotes the Bikeability programme on behalf of the Department for Transport.
Bikeability is the Department for Transport's flagship national cycle training programme for schoolchildren in England, and is a key component of Gear Change. Bikeability cycle training is a practical training programme, which provides schoolchildren with a life skill and enables them to cycle confidently and competently on today's roads. More than four million children have received Bikeability cycle training since the programme's inception in 2007.The Trust aims to make Bikeability the leading programme for cycle training by ensuring:
Child focussed:

 We deliver cycle training to both children and adults, but the majority of delivery is helping children learn the life skill of cycling

Inclusivity:

 We take action to reduce barriers to participation and ensure that anyone who wishes to access Bikeability cycle training is able to

Efficiency:

 Our delivery programme offers value for money and is delivered in an economic and efficient way

Influence:

 We share our evidence of the impact of cycle training across a variety of sectors (transport, education, environment, health, leisure, etc)

Collaboration:

 We work with stakeholders, partners and commercial organisations to achieve our vision and ensure Bikeability is a household name
Charity registration number: 1171111
VAT registration number: 315 3542 27
Read our annual reports:
The Bikeability Trust Impact Report 2022
The Bikeability Trust Annual Review 2021
The Bikeability Trust Annual Review 2020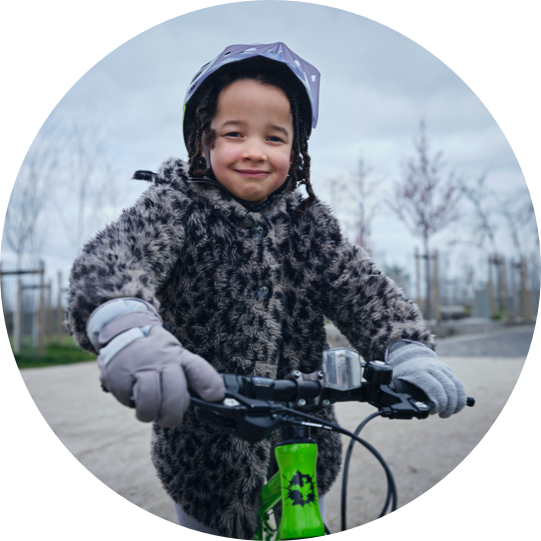 Stories from our Bikeability champions
"I feel really happy and relaxed when I ride my bike, and it's given me independence and freedom. "
Addison
"It really is a joy to watch our son Josh cycle with a big smile on his face and it brings a tear of happiness to our eyes."
Richard
Let's find your closest cycling course
Join the Bikeability Club
Sign up to our Bikeability Club newsletter for inspiration, advice and support to continue your cycling journey.
Expect the latest news, special offers and exclusive competitions – straight into your inbox!
Please enter your email address