We all know that cycling will boost confidence, physical health and emotional wellbeing. So we didn't want to stop at just Bikeability Level 1, 2 and 3.
That's why we created Bikeability Plus; a suite of courses to meet your needs.
Our courses aim to complement and support our core training. We want to improve your skills and confidence, with a range of different options.
Balance
Prepare for Level 1
Generally aimed at 4 – 7 year olds 
Develop cycle handling and awareness skills
Build confidence ahead of future training
Bus
Cycle together to and from school
Perfect for children, parents and school staff
Learn the best route, build confidence and inspire active travel
Fix
Learn the essentials of cycle maintenance
Ideal to ensure your cycle is always road-worthy
Repair a puncture and replace an inner tube
Learn to Ride
If you can balance but can't pedal, this is the course for you
Suitable for all ages
Generally taught after Balance but before Level 1
On Show
Showcase your skills!
The chance for parents and teachers to see Bikeability in action
A great way to show off how we teach cycling
Parents
A taster session to show parents what Bikeability is all about
Boost confidence to help adults cycle with children
Inspire families to cycle together beyond Bikeability
Promotion
Discover Bikeability; come and have a go!
No pressure, simply fun
Join a fun and engaging taster session
Recycled
Give cycles a new lease of life
Learn how to repair unused, old or damaged cycles and find them a new home
We give away all cycles for free to those who need them most
Ride
Learn how to get from A to Z
Build confidence along a pre-planned route.
This could include a school run, cycle to work or the local park.
Transition
Learn how to cycle to your new secondary school
Our instructors will teach you how to cycle from your primary to secondary school
Cycle as a group and discover the joy of cycling to school
Family
Experience the freedom of cycling as a family
Learn how to cycle and build confidence together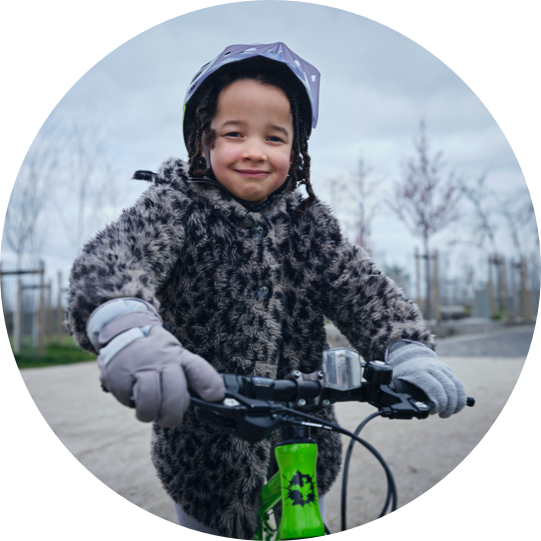 Stories from our Bikeability champions
"I feel really happy and relaxed when I ride my bike, and it's given me independence and freedom. "
Addison
"It really is a joy to watch our son Josh cycle with a big smile on his face and it brings a tear of happiness to our eyes."
Richard
Let's find your closest cycling course
Join the Bikeability Club
Sign up to our Bikeability Club newsletter for inspiration, advice and support to continue your cycling journey.
Expect the latest news, special offers and exclusive competitions – straight into your inbox!
Please enter your email address