Emily Cherry, our Executive Director, shares her thoughts on Bike to School Week in her latest blog post:
"This week has been a real highlight as we partnered with Sustrans to help schools, parents and children celebrate Bike to School Week. This week brings a real focus on the challenges and opportunities for supporting children and parents to see cycling as their first choice to get to school.
We are realistic, we know there is a still a long way to go to help parents and children alike. As the survey Sustrans ran for Bike to School week showed, the majority of parents (62%) dislike their journey to school and cite congested roads as the biggest reason why. We know the difference cycle training can make to confidence, but road conditions, pavement parking, dangerous junctions and poor quality pavements are having a huge impact on parent and carers taking up more cycling. So it was also helpful that nearly a quarter of parents surveyed by Sustrans felt cycle training was key to helping them overcome their worries about the school run.
Before I started at Bikeability, I'd have been in that camp. It was a struggle to put aside the worry about cycling on busy roads. I was always having to rush off to catch the train to London, and cycling wasn't an easy option for us as a family. We did it when we could but it wasn't the routine choice.
Both my children cycle to school daily now, and we found renewed confidence with the road conditions on their journeys to school by completed our new module, Bikeability Family, together. Thanks to our local Bikeability instructor, Outspoken Training, we spent a Saturday morning running through parts of Level 1, Level 2 and then practicing the parts of the school run that my children were concerned about. It really boosted my confidence as a parent to see how independently the children tackled the things they worry about, and with a few simple tips, got better at doing so.
Completing Bikeability Family also made me reflect on what more we could be doing more to teach more basic road safety to children. I've been calling for cycling to be on the national curriculum since I joined the Trust, so I was particularly heartened to see 4 in 5 parents, surveyed by Halfords, agree it should be part of the curriculum, and then 72% of children surveyed by CBBC's Newsround agree. We've got an ambitious walking and cycling vision from the Prime Minister that values infrastructure and training – and now we need to see a commitment from education to embed cycling and walking into the curriculum. Our vision at the Trust will be to support education to do just that as we grow to offer Bikeability for all.
This week the Trust also formally launched our Tools for Schools resources, a really brilliant set of cross-curriculum resources to promote and excite schools about taking part in Bikeability. We've got more planned for older key stages and also SEND resources so do watch this space…
Finally, I rounded off my week by going out to see a Bikeability Fix and Dr Bike session in practice at a local primary school. You may have already seen that Department for Transport have announced a further investment of £2million in Dr Bike to help more people get their bikes fixed and get on the road. These sessions are delivered by Cycling UK and their Big Bike Revival, but excitingly, we will be joining forces to offer joint sessions of Bikeability cycle training and Dr Bike sessions for families and schools, ensuring that these skills are taught to more adults and children across the country. Bike to School Week is a moment where partners come together, to promote the joy of cycling for all, and at the Bikeability Trust we are committed to working in partnership to get the best possible outcomes for more children cycling more often."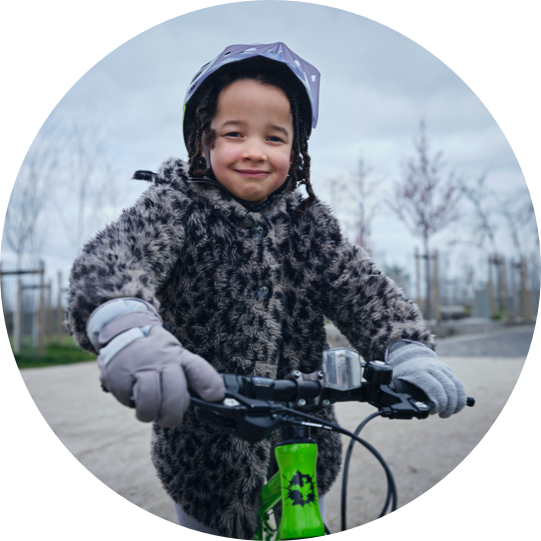 Stories from our Bikeability champions
"I feel really happy and relaxed when I ride my bike, and it's given me independence and freedom. "
Addison
"It really is a joy to watch our son Josh cycle with a big smile on his face and it brings a tear of happiness to our eyes."
Richard
"Cycling gives you the freedom you need when the world around you is locking down – free your mind, free your body and free your soul-build confidence, strength and do your bit to save the environment!"
Zoe
"Cycling has been our saviour this year, and feels like it was the only things that wasn't cancelled."
Sophie
"These sessions provided an excellent foundation. It helped to improve our confidence cycling on the roads. Very well experienced, professional and friendly trainers."
Bikeability Family
"Cycling is a real life skill. Something you only have to learn once and remember forever."
Donna
"We started family bike rides at the start of lockdown2020 as a way of keeping fit, and sharing an activity that the whole family can continue to enjoy."
Ellen
"Giving them the skills to feel more confident on the road is a great step for both them, and myself."
Emma
"Cycling for me is a way to get around; a way to exercise; but most of all it's a way to have fun together as a family."
Erica
"We went from "I don't want to!" To "Mummy, can you take me on a bike ride around the estate please?" Her bike has got her away from too much screen time and gained fun, fresh air and exercise!​"
Francesca
"The children are so happy, they feel so accomplished and they are, rightly, so proud of themselves. And we're so incredibly proud of them too."
Donna
"Using a bike rather than taking the car helps reduce air pollution. We are giving children the skills to make that choice easier and safer"
Hertfordshire Cycling
"I am so unbelievably proud of them. Here's to many more memories together as a family…on our bikes. Whoop Whoop!!"
JP
"It has been a tremendous help to gain the knowledge to comfortably ride on roads in the correct way and with confidence. Look forward to growing our journey with you in the future."
Juan
"I'm back cycling after a long break, I'm a bit rusty but got some wonderful hints and tips on this website"
Pammy
Let's find your closest cycling course
Join the Bikeability Club
Sign up to our Bikeability Club newsletter for inspiration, advice and support to continue your cycling journey.
Expect the latest news, special offers and exclusive competitions – straight into your inbox!
Please enter your email address