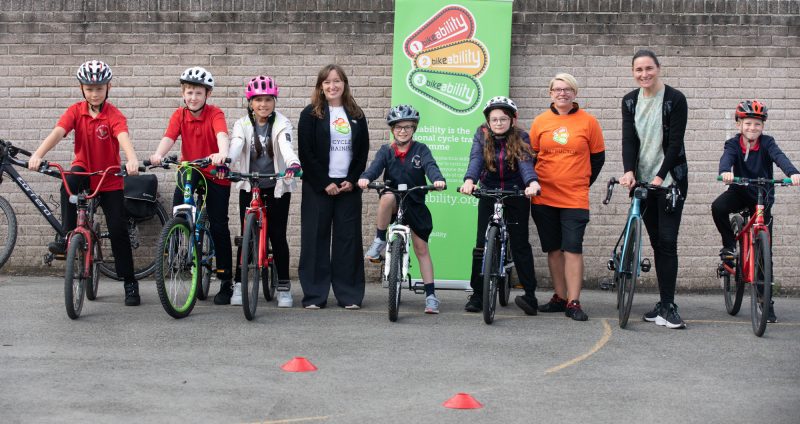 Children have been showing off their cycling skills to South Yorkshire Active Travel Commissioner, Dame Sarah Storey during a Bikeability session in Sheffield.
Dame Sarah, Britain's most decorated Paralympian, visited pupils at St John's CE Junior School as they took part in the Bikeability cycle training session which saw them learn how to ride confidently and safely on the roads.
Dame Sarah watched on as pupils were put through their paces by instructors from Cycle North. Pupils learnt how to navigate tight turns, handle their bikes and even had the opportunity to try some tricks with ramps and a game of cycling limbo.
Inspector Kevin Smith from South Yorkshire Police also joined pupils, to remind them of the work his officers do to protect cyclists and educate drivers. His team of officers conducted Operation Close Pass near the school to educate drivers on safe passing distances when driving near people on bikes.
The children were then given the opportunity to ask questions of Dame Sarah. Pupils grilled the Dame on her athletic career, the Paralympics and her important work supporting Mayor Dan Jarvis to get more people travelling on foot or by bike.
The cycling champion commended Bikeability for the work it's doing in schools to teach more children how to ride. It is Bikeability's ambition to give every child the opportunity to learn how to ride a bike.
Dame Sarah Storey, Active Travel Commissioner, said: "Watching the children learn how to ride with Bikeability has been a fantastic way to round off a busy week. Cycling is an essential life skill and Inspector Smith and I know that Bikeability trained adults are also safer behind the wheel of a vehicle.
"At school age, Bikeability helps hundreds of thousands of children master riding on the road and safely in many different environments, giving them the confidence they need to cycle to school, the shops or with friends and family just for the fun of it. We need fewer cars, driven less often so the more journeys children are enabled to take by bike, the more likely they are to adopt habits that stay with them for life.
"As Active Travel Commissioner, in South Yorkshire, I'm working together with the police to ensure our roads are as safe as possible for all cyclists and I hope by doing this we will enable this generation of school age children to see cycling as their first option for those short, everyday journeys. Bikeability are doing incredible work and I know my own children will thoroughly enjoy it when they take part in a session."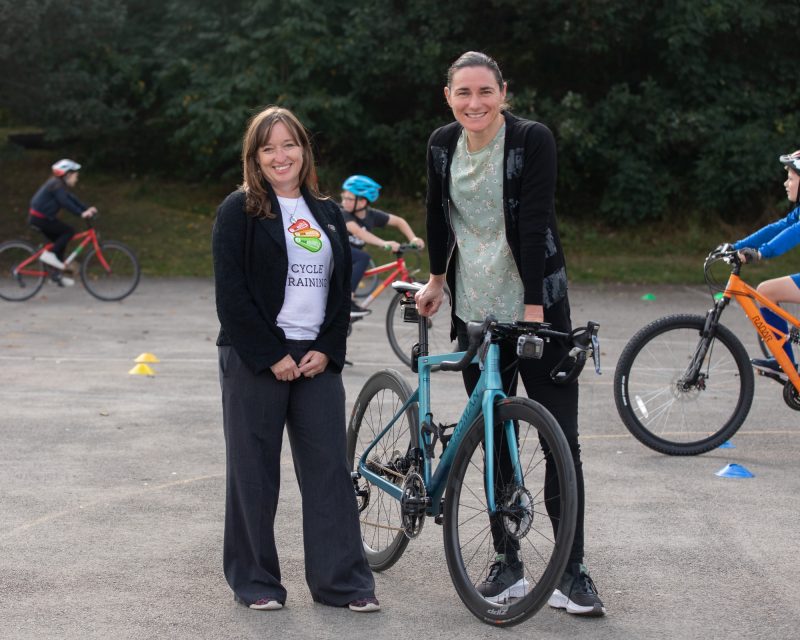 Dame Sarah Storey was joined by Emily Cherry, Executive Director at the Bikeability Trust. She said: "Athletes like Sarah are incredible role models for children taking part in Bikeability and it was fantastic to see the pupils (and some teachers!) enjoying the session alongside our greatest ever Paralympian.
"The children at St John's proved the true impact of Bikeability. It was lovely to hear them talk about the fun they had during the session, the essential skills they learnt and the increased awareness of safety they can utilise on rides outside the classroom.
"It's our ambition to give every child the opportunity to learn how to cycle and nothing is more inspirational than having a champion on your playground. Who knows, we might have the next gold medal winner in this class!"
One year six pupil at the school said: "I didn't know how to ride a bike before Bikeability came to school. At first I kept struggling but then I managed to do it and I feel really proud of myself."
Any schools interested in finding out more about running Bikeability sessions for their pupils can find out more on our website.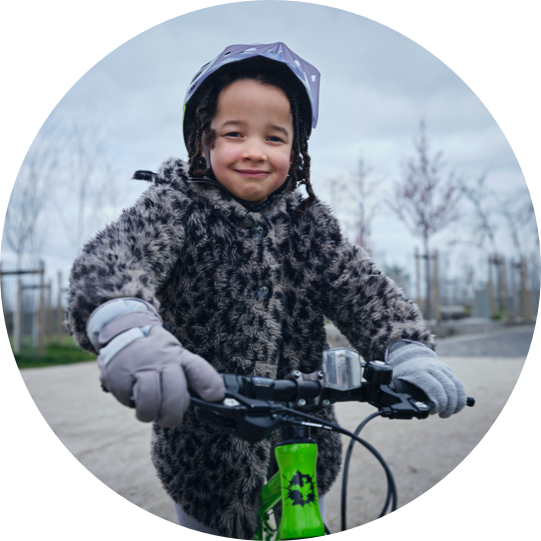 Stories from our Bikeability champions
"I feel really happy and relaxed when I ride my bike, and it's given me independence and freedom. "
Addison
"It really is a joy to watch our son Josh cycle with a big smile on his face and it brings a tear of happiness to our eyes."
Richard
"Cycling gives you the freedom you need when the world around you is locking down – free your mind, free your body and free your soul-build confidence, strength and do your bit to save the environment!"
Zoe
"Cycling has been our saviour this year, and feels like it was the only things that wasn't cancelled."
Sophie
"These sessions provided an excellent foundation. It helped to improve our confidence cycling on the roads. Very well experienced, professional and friendly trainers."
Bikeability Family
"Cycling is a real life skill. Something you only have to learn once and remember forever."
Donna
"We started family bike rides at the start of lockdown2020 as a way of keeping fit, and sharing an activity that the whole family can continue to enjoy."
Ellen
"Giving them the skills to feel more confident on the road is a great step for both them, and myself."
Emma
"Cycling for me is a way to get around; a way to exercise; but most of all it's a way to have fun together as a family."
Erica
"We went from "I don't want to!" To "Mummy, can you take me on a bike ride around the estate please?" Her bike has got her away from too much screen time and gained fun, fresh air and exercise!​"
Francesca
"The children are so happy, they feel so accomplished and they are, rightly, so proud of themselves. And we're so incredibly proud of them too."
Donna
"Using a bike rather than taking the car helps reduce air pollution. We are giving children the skills to make that choice easier and safer"
Hertfordshire Cycling
"I am so unbelievably proud of them. Here's to many more memories together as a family…on our bikes. Whoop Whoop!!"
JP
"It has been a tremendous help to gain the knowledge to comfortably ride on roads in the correct way and with confidence. Look forward to growing our journey with you in the future."
Juan
"I'm back cycling after a long break, I'm a bit rusty but got some wonderful hints and tips on this website"
Pammy
Let's find your closest cycling course
Join the Bikeability Club
Sign up to our Bikeability Club newsletter for inspiration, advice and support to continue your cycling journey.
Expect the latest news, special offers and exclusive competitions – straight into your inbox!
Please enter your email address