As we head into the final few weeks before a well-earned seasonal break, I wanted to reflect as Chair of Trustees on such an extraordinary year.
When we entered 2020, we knew that we were heading into a period of change at the Trust – but we did not anticipate the amount of impact Covid-19 would have on our whole way of working. I want to pay testament to the industry's flexibility, commitment and dedication as we worked through what this meant for our entire operations. As we shifted to remote working and juggled the ever changing implications of Government guidance, you showed us patience and support in equal measure.
The whole staff team at the Trust have worked incredibly hard this year to ensure that the industry can continue to operate safely and with support. We successfully lobbied and secured additional support for Covid-19 cancellation payments, thanks to the importance that Government places on Bikeability. We understand that working conditions remain difficult and we are listening and engaging with the industry to ensure that we develop the best Bikeability for All programme in the future. I also want to particularly acknowledge the Department for Transport officials who continue to champion and challenge the Bikeability Trust to provide the best information, advice and guidance.
Despite the challenges of Covid-19, we have had many highs throughout the year:
In July, we released that 420,207 children were trained in 2019/20, the highest ever annual figure. We received widespread regional media coverage and showed how the Trust can promote and raise awareness of the brilliant work of the Bikeability industry.
We launched our Tools for Schools resources, designed to help embed Bikeability into the school curriculum with resources, case studies and information. We've just released a new introductory video to support providers persuade more schools to delivery Bikeability cycle training. We also continue to refine our communications programme, ensuring that we communicate with the industry regularly, effectively and in a timely manner.
We increased our staffing levels in our Operations team to ensure that our team can be more responsive when replying to around 2000 emails every quarter. We also launched our Link Database, a system which will improve our reporting and administration. We appreciate your patience with the roll-out of this new system but we are confident that the long-term impact will be hugely positive.
We piloted and launched two new cycle training modules; Bikeability Family and Bikeability Adult. Bikeability Family has now been formally added to our programme and over 2350 families have, as a result, received this course. Additionally, we delivered cycle training for 2117 adults using funding from withdrawn Plus Modules. We completed our Approved Driving Instructor pilot training programme, which will launch in Spring 2021, and we continue to work with European countries to share best practice and develop new research.
There are so many more moments we could reflect on, but your feedback and stories are those which stand out. Cards from children who want to say thank you for the confidence the course has given them. Grandparents who received training so they could book a cycling holiday with their grandchildren. These stories truly make the difference, so please continue sharing them with us.
This year has brought a year of change in the Trust and the Board, bringing in new fresh insight, experience and energy to drive us forward for the future. As you know, we said goodbye to Paul Robison who left us in at the end of June. I am incredibly grateful to Paul for his dedication and perseverance in setting up the Trust and for his leadership over its first three years. We have been so fortunate to recruit Emily Cherry as Executive Director. We interviewed her in the first week of the first lockdown and she joined us in June. She has taken on an extraordinary challenge of leading the team virtually (I look forward to meeting her in person sometime next year) at the same time as changing so much of our operations because of the pandemic, steering the board through to a new strategy, and preparing the Trust and the industry for Bikeability for All.  So a particular thanks to Emily. I also want to welcome our two new trustees Imran Hussain and John Jackson, and of course we are hugely delighted that Phillip Darton has joined us as our Honorary Patron.
I'm very proud of our new ambition and vision to reach 5 million children through Bikeability cycle training and how we are engaging the industry as we move to a roadmap for 'every child'. Our six aims of child focus, inclusive, quality, efficiency, collaboration and influence will drive our approach in the new year.
We couldn't do this without the commitment of all our instructors, providers, grant recipients and Bikeability Trust staff – and the joint unifying passion to help children cycle more confidently, more often. Thank you.
Season's greetings to you all on behalf of the Bikeability Trust staff team and board and here's to a brighter and more settled 2021!
Nunc finibus, felis at ornare aliquet
Nunc finibus, felis at ornare aliquet, sem mi viverra purus, non aliquam dui turpis eget orci. Vivamus ut libero finibus, vehicula ligula sit amet, eleifend sapien.
20,000
Children trained in 2020
20,000
Children trained in 2020
20,000
Children trained in 2020
Heading 4
Nulla eget ante est.
Nulla eget ante est.
Nulla eget ante est.
Nulla eget ante est.
Pellentesque eu sollicitudin lacus. Nam nec neque nibh. Morbi malesuada lacus id iaculis pellentesque. Proin ut arcu mauris.
Donec massa ex, porta et dolor vitae, euismod facilisis nibh. Fusce imperdiet ante pretium dolor commodo malesuada.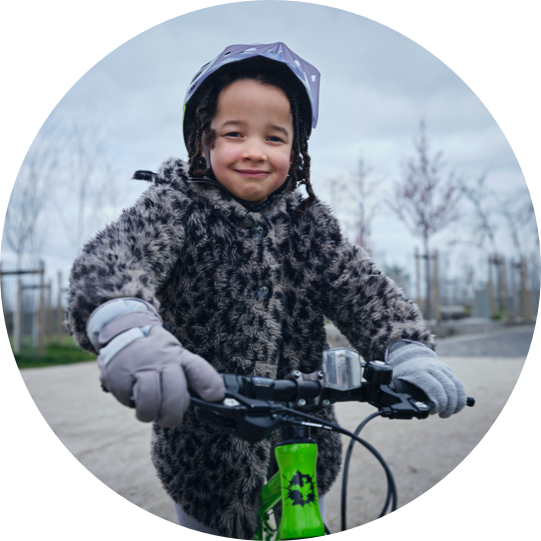 Stories from our Bikeability champions
"I feel really happy and relaxed when I ride my bike, and it's given me independence and freedom. "
Addison
"It really is a joy to watch our son Josh cycle with a big smile on his face and it brings a tear of happiness to our eyes."
Richard
"Cycling gives you the freedom you need when the world around you is locking down – free your mind, free your body and free your soul-build confidence, strength and do your bit to save the environment!"
Zoe
"Cycling has been our saviour this year, and feels like it was the only things that wasn't cancelled."
Sophie
"These sessions provided an excellent foundation. It helped to improve our confidence cycling on the roads. Very well experienced, professional and friendly trainers."
Bikeability Family
"Cycling is a real life skill. Something you only have to learn once and remember forever."
Donna
"We started family bike rides at the start of lockdown2020 as a way of keeping fit, and sharing an activity that the whole family can continue to enjoy."
Ellen
"Giving them the skills to feel more confident on the road is a great step for both them, and myself."
Emma
"Cycling for me is a way to get around; a way to exercise; but most of all it's a way to have fun together as a family."
Erica
"We went from "I don't want to!" To "Mummy, can you take me on a bike ride around the estate please?" Her bike has got her away from too much screen time and gained fun, fresh air and exercise!​"
Francesca
"The children are so happy, they feel so accomplished and they are, rightly, so proud of themselves. And we're so incredibly proud of them too."
Donna
"Using a bike rather than taking the car helps reduce air pollution. We are giving children the skills to make that choice easier and safer"
Hertfordshire Cycling
"I am so unbelievably proud of them. Here's to many more memories together as a family…on our bikes. Whoop Whoop!!"
JP
"It has been a tremendous help to gain the knowledge to comfortably ride on roads in the correct way and with confidence. Look forward to growing our journey with you in the future."
Juan
"I'm back cycling after a long break, I'm a bit rusty but got some wonderful hints and tips on this website"
Pammy
Let's find your closest cycling course
Join the Bikeability Club
Sign up to our Bikeability Club newsletter for inspiration, advice and support to continue your cycling journey.
Expect the latest news, special offers and exclusive competitions – straight into your inbox!
Please enter your email address