Michelle Smith works for Cycling UK as a Cycling Development officer in the Black Country. Her job is to get as many people across the area cycling. She has recently been helping to deliver the Big Bike Revival in the Midlands area.
The Big Bike Revival
The Big Bike Revival includes learn to ride and Doctor Bike sessions. "So anything that can encourage that person to either use their bike or get their bike out of the storage! We're trying to encourage people to get on bikes. The beginners, the non cyclists, to get out of their cars and get some bums on bikes!" Michelle told us.
It's not always an easy task, especially in an area where many people can't afford to cycle. "It's a really deprived area and I always call it the poor sister too, because Birmingham is quite established in clubs and cycling activity. It's constantly growing Birmingham which is really good, but the Black Country doesn't have so many [cycle clubs]. When I first began here it had one club and now we've got now another club started and more in the start-up process."
Empowering local people
Michelle is passionate about supporting volunteer led clubs and helping them become sustainable. "This empowers the community themselves. We want to put the power into the community's hands so that then they can empower their own community. Generally with the community club project, [we]  give them a kick starter grant.
"[We] give them some insurance, some training, some equipment, a small fleet of bikes to start off from. They've obviously got me as an officer to support them along the way. We connect them with different organisations, trying to sort out the challenges like volunteer recruitment, and storage for the bikes. We try steer them into the right direction really so that their club is more likely to be a success."
The local people Michelle works with are really happy to have someone who can help them on their way to set up cycling clubs and more.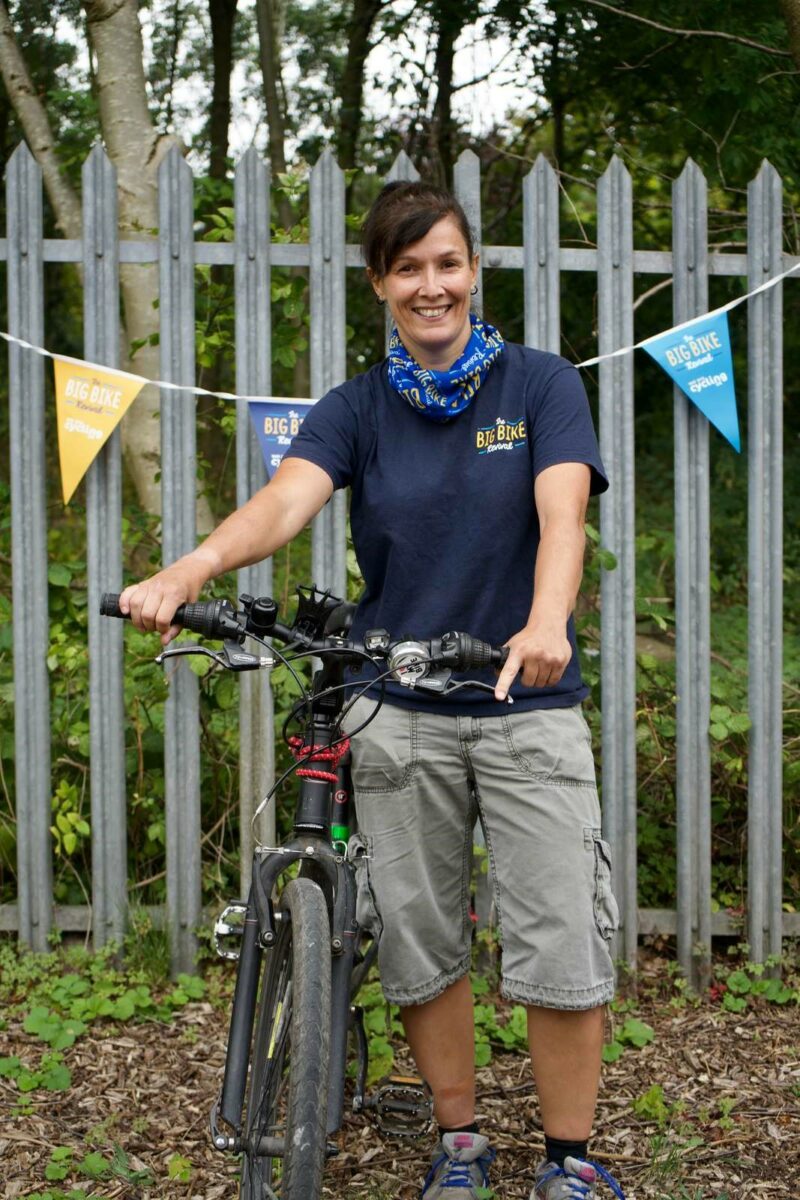 Creating win-win situations
"They're very passionate. They really want to start up and then they get hit by all these challenges. And that can really shake them a bit. So by looking at them at that from the start, before the club sets up, [I] say to them okay let's have a look where you are. Let's have a look at what you'll need."
By taking this approach, groups can be connected with local community centres and faith centres and groups that are already trying to get local people more active, which works for everyone. "It's a win-win situation. What I try and do is link volunteers with win-win situations where it's going to help everybody, and I try and link them with other organisations that can also fund them. I do make a huge emphasis on them trying to get them sustainable in the future."
Cycling for the future
Cycling UK are now able to introduce cycling activities into areas like Dudley, where there hasn't been any cycling clubs before. "There is a demand for it, you know because a lot of them have never ever ridden a bike. So to have this opportunity where they can learn how to ride a bike, be taken around the park, and then they can expand on their skills."
Once people can ride they also need access to cycles, which isn't always easy. "A lot of people don't own bikes or don't have enough room [in their house] to put the bikes in. So having fleets of bikes and community clubs has been a real help. They can go along and use bikes, but if they do have the space, they can purchase their own bikes."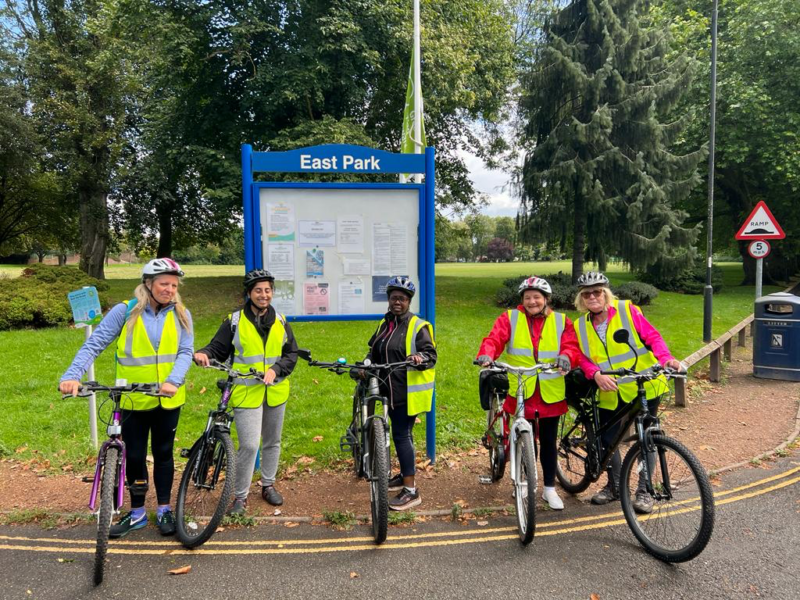 Overcoming challenges
They've also come up against some other challenges, particularly in Dudley. "Dudley has a lot of hills! So trying to get people cycling in Dudley is always a challenge. This is where electric bikes come in and opening up people to them, which we'd like to do in the future. But just starting out at first [they] can still ride their bikes in the parks, which are pretty flat!"
Despite all the challenges, there are lots of success stories, and Michelle is really excited that so many more women are taking up cycling in the Black Country.
"They've taken to the cycling even more than the men. So there's more women getting on bikes in the last two years! Paulette's group, Give a Girl a Bike, is a fantastic example. Her group is going from strength to strength. It's really the amount of effort Paulette is putting in and just the fun she's pulling into it, the actual fun.
"And it's not just about cycling. The friendships and social interaction have been amazing. The women look forward to seeing each other each week and you know they're not going far. That's what the women want, you know, not going for miles and miles in the country. They want a social as well as a ride."
Sharing skills
As well as leading rides, Paulette has also been helped by Cycling UK to train as a Bikeability instructor. "She's constantly being asked to teach women and girls to learn to ride. So she's not just doing lead rides anymore. She's teaching people how to ride bikes and she's having a lot of success stories.
And then what we're finding is that girls are coming on the bike rides with their mums. So they're not just on their tablets or on electronic devices, it's actually a way to share family time."
Michelle, who describes herself as a leisure cyclist, is keen to get as many people across the Black Country out riding. There are lots of plans for the future, but as she sees it, the most important is creating great outcomes for everyone involved.
"It's all about building relationships, we're trying to build win-win relationships!"
If you want to find out more about Cycling UK's Big Bike Revival, visit the website here.
Let's find your closest cycling course