From shorter urban routes to longer rides in the countryside, we've put together a list of some of our favourite routes you might be inspired to check out this summer. 
East  
Bure Valley Path, Norfolk
A shared path for walking and cycling, this 9-mile route follows part of the route of the former Great Eastern Railway through to Hoveton and Wroxham. The route passes through countryside and pretty villages and there is the option to get the train back once you've cycled the path.
Discover the route  
Ickworth Monument Multi-use Trail, West Suffolk 
A 6-mile, circular route with lots of sights to see along the way. This is a multi-use path, so you will be sharing it with walkers and runners. There is also a cycle hire hub at Ickworth Estate, or you are welcome to take your own bikes.
Discover the route 
Wicken Fen National Nature Reserve, Cambridgeshire 
Part of the National Cycle Network route 11, this cycle ride will take you through the nature reserve where you can see the konik ponies and other wildlife living on the reserve.
Discover the route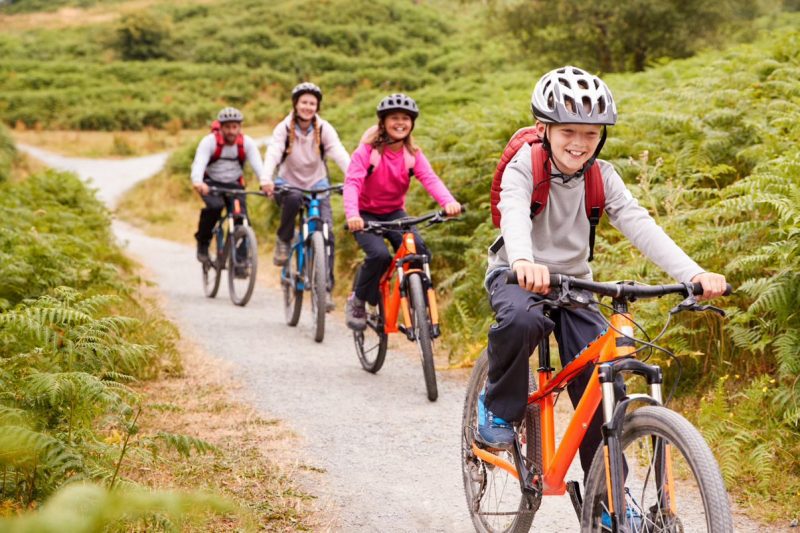 London 
Lower Lea Valley river ride, London
A route just under 13 miles that takes you along the river. It starts at Victoria Park and takes you past the Queen Elizabeth Olympic Park. What more inspiration do you need?
Discover the route 
Richmond Park, London
Follow National Cycle Network route 4 into Richmond Park, the biggest enclosed park in London. The park is traffic free and deer roam freely – just make sure you don't feed them if you stop for a picnic! There is bike hire available in the park, located at the Roehampton Gate car park, and a few different routes to choose from.
Discover the route 
Midlands 
Calke Tramway Trail, Derby 
This route is shaped like a figure of eight, so you can cycle as much or as little of it as you want, covering between 4 and 6 miles. It's an easy cycle and takes you through woodland, farmland and pasture.
Discover the route 
Dudmaston Estate woodland, Shropshire 
Just over 2 miles, this route will take you through woodlands and glorious meadows, where you might spot the White Admiral Butterfly, depending on the timing of your visit.
Discover the route  
Rea Valley Route, Birmingham 
This 5.7-mile route takes you from the city centre to some of the nicest parks in the city, including Cannon Hill Park, and along some very pretty canal tow paths. Once you get into the park, most of the route is off-road.
Discover the route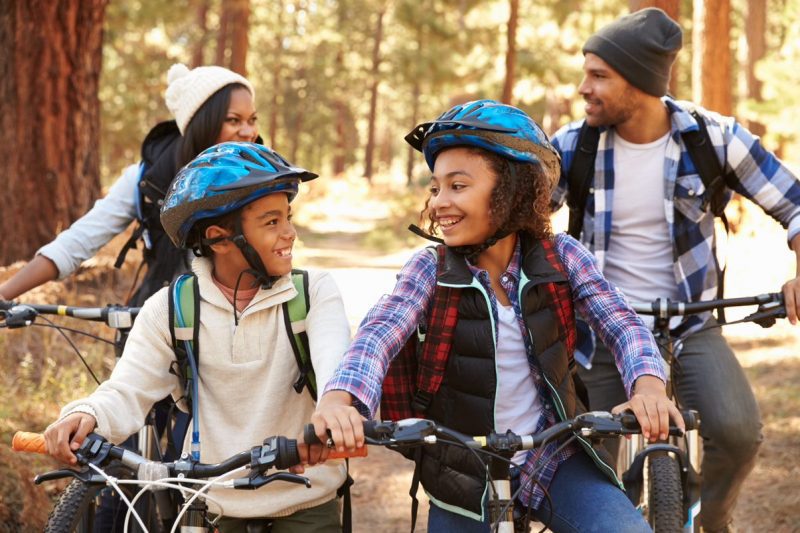 North 
The Cinder Track, North Yorkshire 
This beautiful 21-mile coastal route takes you from Scarborough to Whitby, with some amazing scenery along the way. It's mostly traffic-free, but there are a few sections on-road, so this route is better suited to more confident riders.
Discover the route 
York to Selby, Yorkshire
Clocking in at just over 14 miles, this flat, mainly traffic-free route is ideal for less experienced cyclists. It follows the old East Coast Mainline railway and there are signs along the path explaining the history of the route.
Discover the route 
Watergate Forest Park, Gateshead  
This short route only takes about 20 minutes, but it is packed with things to see, including wildlife, flowers, sculptures, streams and waterfalls. The park is on the site of the former Watergate Colliery and has been transformed into a haven for wildlife.
Discover the route 
North West 
Liverpool Loopline, Liverpool
An urban route that is just over 10 miles, this is great for less experienced riders as it is totally flat and almost completely traffic free. It's also a lovely tranquil escape from the busy city.
Discover the route 
Millenium Greenway, Chester
This route runs along an old railway line through the historic city of Chester to the Wharf at Connah's Quay. At just over 7 miles, it is mostly flat and totally traffic free.
Discover the route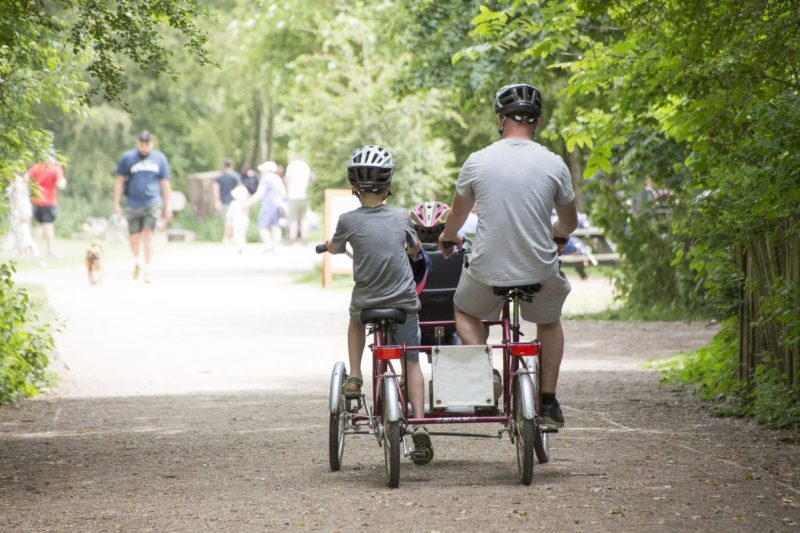 Peak District 
Dark Peak, Peak District
There are two longer routes to choose from at Dark Peak, the 18-mile Three Reservoirs trail, or the 20-mile Win Hill circuit trail. Both have some fantastic scenery and are better suited to more confident, experienced cyclists. Perfect you're up for a challenge!
Discover the routes 
South 
Family cycle trail at Beechenhurst, Gloucestershire
A 9-mile route in the Forest of Dean along former railway lines, with some perfect spots along the way for picnics and visiting local villages. This route is suitable for all abilities and can be accessed from various locations around the Forest of Dean, including the Forest of Dean Cycle Centre, Beechenhurst and Mallards Pike.
Discover the route  
Plymbridge Woods family cycle trail, Devon 
A 10-mile cycle route following an old Great Westen Railway track. You'll cycle through woodlands and open countryside, plus you might be able to see some wild peregrines nesting in the area, depending when you visit.
Discover the route  
South Taste Trail Brockenhurst, New Forest
Brockenhurst has been called the most beautiful village in Britain, and this route will give you a 7-mile taster. A fairly flat route that is mostly off-road, this is a great way to experience the New Forest. There is also cycle hire available in the nearby village.
Discover the route 
Wales 
Merthyr Tydfil to Brecon, Wales
This is 25 miles, so a longer bike that will probably be best suited to experienced cyclists. The route takes you from the forming mining town to a rural village through the stunning heart of the Brecon Beacons national park. There are a variety of different surfaces, including roads, forest paths, canal tow paths and dusty cycle paths, so it's better for hybrids or mountain bikes rather than road bikes.
Discover the route 
Stackpole mountain bike trail, Pembrokeshire 
This route is only 4.1 miles, but it's more challenging and suited to experienced riders. This mountainous bike trail will take you through a background of natural woodlands in the Stackpole Estate.
Discover the route 
If you can't find anything here near you, have a look at Sustrans for more cycle route ideas. The National Trust also has a good list of their properties where you can enjoy the scenery while cycling. 
If you would like some help with your training, we have training for the whole family, or you can find a course for your child near you here. 
Let's find your closest cycling course