Alazar always wanted to cycle on his own. His cerebral palsy meant that he rode a wheelchair bicycle, piloted by his family. But he wanted to do it all by himself.
Alazar practiced and practised. Slowly, he built up his strength. In 2016, he could ride a fixed gear trike with a body harness to keep him in position. The fixed gear mechanism, along with the harness, helped him learn the basics of cycle control. It also improved his muscle memory and development.
By 2017, Alazar had progressed to a rear-steering recumbent trike. But he still wanted more. He wanted to complete Bikeability cycle training. Nobody was sure it was possible.
Alazar beat the odds again. The following year, he could walk short distances. He progressed to a low rider recumbent trike and began to cycle 2km a week. Without cycling, none of this would have been possible. 
Alazar completed Bikeability Level 1 in Autumn 2019. Now, he cycles independently with his family. Cycling is now something they can all enjoy and share together. 
Alazar was awarded our "Bikeability Trainee of the Year" award in 2019, in recognition of his amazing achievements.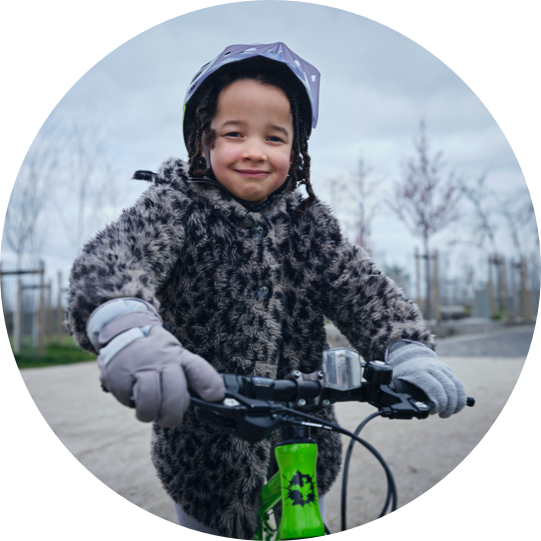 Stories from our Bikeability champions
"I feel really happy and relaxed when I ride my bike, and it's given me independence and freedom. "
Addison
"It really is a joy to watch our son Josh cycle with a big smile on his face and it brings a tear of happiness to our eyes."
Richard
"Cycling gives you the freedom you need when the world around you is locking down – free your mind, free your body and free your soul-build confidence, strength and do your bit to save the environment!"
Zoe
"Cycling has been our saviour this year, and feels like it was the only things that wasn't cancelled."
Sophie
"These sessions provided an excellent foundation. It helped to improve our confidence cycling on the roads. Very well experienced, professional and friendly trainers."
Bikeability Family
"Cycling is a real life skill. Something you only have to learn once and remember forever."
Donna
"We started family bike rides at the start of lockdown2020 as a way of keeping fit, and sharing an activity that the whole family can continue to enjoy."
Ellen
"Giving them the skills to feel more confident on the road is a great step for both them, and myself."
Emma
"Cycling for me is a way to get around; a way to exercise; but most of all it's a way to have fun together as a family."
Erica
"We went from "I don't want to!" To "Mummy, can you take me on a bike ride around the estate please?" Her bike has got her away from too much screen time and gained fun, fresh air and exercise!​"
Francesca
"The children are so happy, they feel so accomplished and they are, rightly, so proud of themselves. And we're so incredibly proud of them too."
Donna
"Using a bike rather than taking the car helps reduce air pollution. We are giving children the skills to make that choice easier and safer"
Hertfordshire Cycling
"I am so unbelievably proud of them. Here's to many more memories together as a family…on our bikes. Whoop Whoop!!"
JP
"It has been a tremendous help to gain the knowledge to comfortably ride on roads in the correct way and with confidence. Look forward to growing our journey with you in the future."
Juan
"I'm back cycling after a long break, I'm a bit rusty but got some wonderful hints and tips on this website"
Pammy
Let's find your closest cycling course
Join the Bikeability Club
Why not join our Bikeability Club for lots of advice about how to carry on cycling after Bike to School Week, plus newsletters, discounts and other competitions!
Please enter your email address