Bikeability providers now have a new route for employing new cycling instructors thanks to a new Cycle Instructor Apprenticeship scheme from First Step Training.  
Endorsed by the Bikeability Trust, the Cycle Instructor Apprenticeship Scheme offers a unique vocational pathway for aspiring Bikeability instructors. The apprenticeship gives training providers and grant recipients the opportunity to take on new instructors and increase delivery, supporting the Trust's ambition to offer cycling training to every child by 2025. 
Under the Government's apprenticeship scheme, training providers and grant recipients who take on an apprentice could be eligible for £3,000 of funding. If that apprentice is between 16 – 18 (or up to 25 in some cases) employers will receive an additional £1,000.  
The comprehensive programme of training is designed to develop all the skills, knowledge and behaviours required to be a successful cycle instructor. The apprenticeship teaches the communication, leadership, and practical skills, required to plan and deliver practical cycling programmes. The programme is ideal for a cycle instructing training provider whose services include: 
Bikeability Levels L1, L2 and L3

 

Learn to Ride and Balance

 

Bikeability Adult and Family 

 

Cycle Clubs

 
The course requires the apprentice to have at least 20% of their time spent learning off the job, so apprentices can be committed to learning the unique qualities of your business, whilst building their knowledge in areas such as cycling balance, signalling and road safety. 
Supported by 1st4sport, apprentices doing the Cycle Instructor Apprenticeship will complete a Level 2 Community Activator Coach Apprenticeship Standard, a Level 2 Award in Instructing Cycle Training, and additional cycle instructor specific safety training including: 
Health and safety 

 

Equality 

 

Safeguarding 

 
There is very little for the apprentices employer to do, as First Step provides all the training and assessments necessary, including tracking an apprentice's progress for quality assurance purposes, free of charge.  
Any interested employers need to register with the government's apprenticeship service and attend an employer induction with First Step Training before starting the training. 
To register your interest please contact First Step Training or call 01482 218753. There has never been a better time to train an apprentice.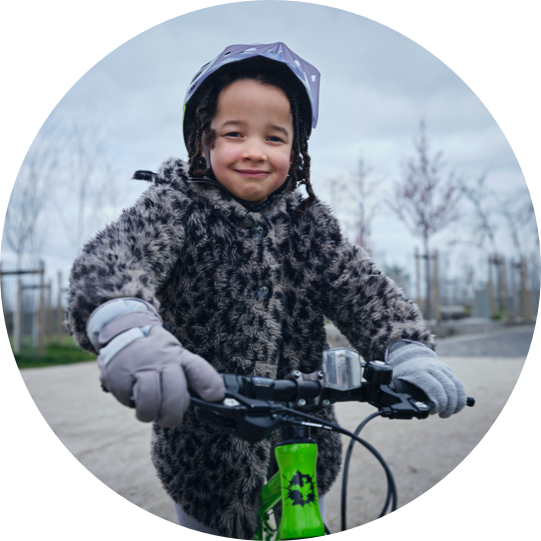 Stories from our Bikeability champions
"I feel really happy and relaxed when I ride my bike, and it's given me independence and freedom. "
Addison
"It really is a joy to watch our son Josh cycle with a big smile on his face and it brings a tear of happiness to our eyes."
Richard
"Cycling gives you the freedom you need when the world around you is locking down – free your mind, free your body and free your soul-build confidence, strength and do your bit to save the environment!"
Zoe
"Cycling has been our saviour this year, and feels like it was the only things that wasn't cancelled."
Sophie
"These sessions provided an excellent foundation. It helped to improve our confidence cycling on the roads. Very well experienced, professional and friendly trainers."
Bikeability Family
"Cycling is a real life skill. Something you only have to learn once and remember forever."
Donna
"We started family bike rides at the start of lockdown2020 as a way of keeping fit, and sharing an activity that the whole family can continue to enjoy."
Ellen
"Giving them the skills to feel more confident on the road is a great step for both them, and myself."
Emma
"Cycling for me is a way to get around; a way to exercise; but most of all it's a way to have fun together as a family."
Erica
"We went from "I don't want to!" To "Mummy, can you take me on a bike ride around the estate please?" Her bike has got her away from too much screen time and gained fun, fresh air and exercise!​"
Francesca
"The children are so happy, they feel so accomplished and they are, rightly, so proud of themselves. And we're so incredibly proud of them too."
Donna
"Using a bike rather than taking the car helps reduce air pollution. We are giving children the skills to make that choice easier and safer"
Hertfordshire Cycling
"I am so unbelievably proud of them. Here's to many more memories together as a family…on our bikes. Whoop Whoop!!"
JP
"It has been a tremendous help to gain the knowledge to comfortably ride on roads in the correct way and with confidence. Look forward to growing our journey with you in the future."
Juan
"I'm back cycling after a long break, I'm a bit rusty but got some wonderful hints and tips on this website"
Pammy
Let's find your closest cycling course
Join the Bikeability Club
Sign up to our Bikeability Club newsletter for inspiration, advice and support to continue your cycling journey.
Expect the latest news, special offers and exclusive competitions – straight into your inbox!
Please enter your email address