The school run is a ritual followed by billions across the globe. Each day children pack their book bags and head out to school. After a day of lessons, they pack up their desks and return home for the evening.
It's easy to dismiss the school run as a tired trudge to the classroom or a rushed hurry home in time for tea. A journey we must make so our children receive the education they need. But the school run has the potential to be so much more than a mundane twice-daily journey. It's an opportunity to connect with nature, develop children's skills and contribute to a less polluted world. That is, if you leave the car at home and cycle, walk or wheel to school.
Learning to cycle is a life skill and every child should be given the opportunity to learn to ride. Cycling unlocks freedom, independence and gives children an option for transport beyond expensive private car ownership. Many countries have their own cycle training programmes, designed to equip the next generation with the skills they need to contribute to a more sustainable world.
In Vienna, Austria, children learn on cycle training grounds across the city and take lessons in the classroom to prepare them for a cycling exam when they're ten-years-old. In Belgium, local authorities, schools and professional cycle trainers get kids pedalling. In France, children undertake 10 hours of cycle training in school. In the Netherlands, the poster child for raising a generation of cyclists, around 200,000 12-year-olds take the "Verkeersexamen" (traffic test) each year before they start at secondary school. They follow a busy route and are assessed on their ability to cope with traffic situations, before being awarded with a certificate.
In England, The Bikeability Trust runs Bikeability, the government's national cycle training programme. Around half a million children a year are put through their pedalling paces, with courses designed to get the very youngest children gliding round on balance bikes, right up to sessions for teenagers and adults that give you the confidence to navigate the trickiest situations on the roads. A new module, Bikeability Family, equips families with the skills they need to leave the car at home and cycle to together.
We know that professional cycle training is valued by the public. In recent YouGov polling, 74% of people recognise the importance of professional cycle training for children. With just 14% of parents feeling very confident to use the Highway Code to teach their children to cycle on the road, Bikeability cycle training is crucial link in the chain that will drive our children to a more sustainable future.
As it stands, just 44 per cent of children have learnt to cycle on the roads with Bikeability by the time they leave primary school. Too many children are missing out on the opportunity to learn to cycle, which is why we are calling for cycling to be put on the school curriculum, just like swimming is.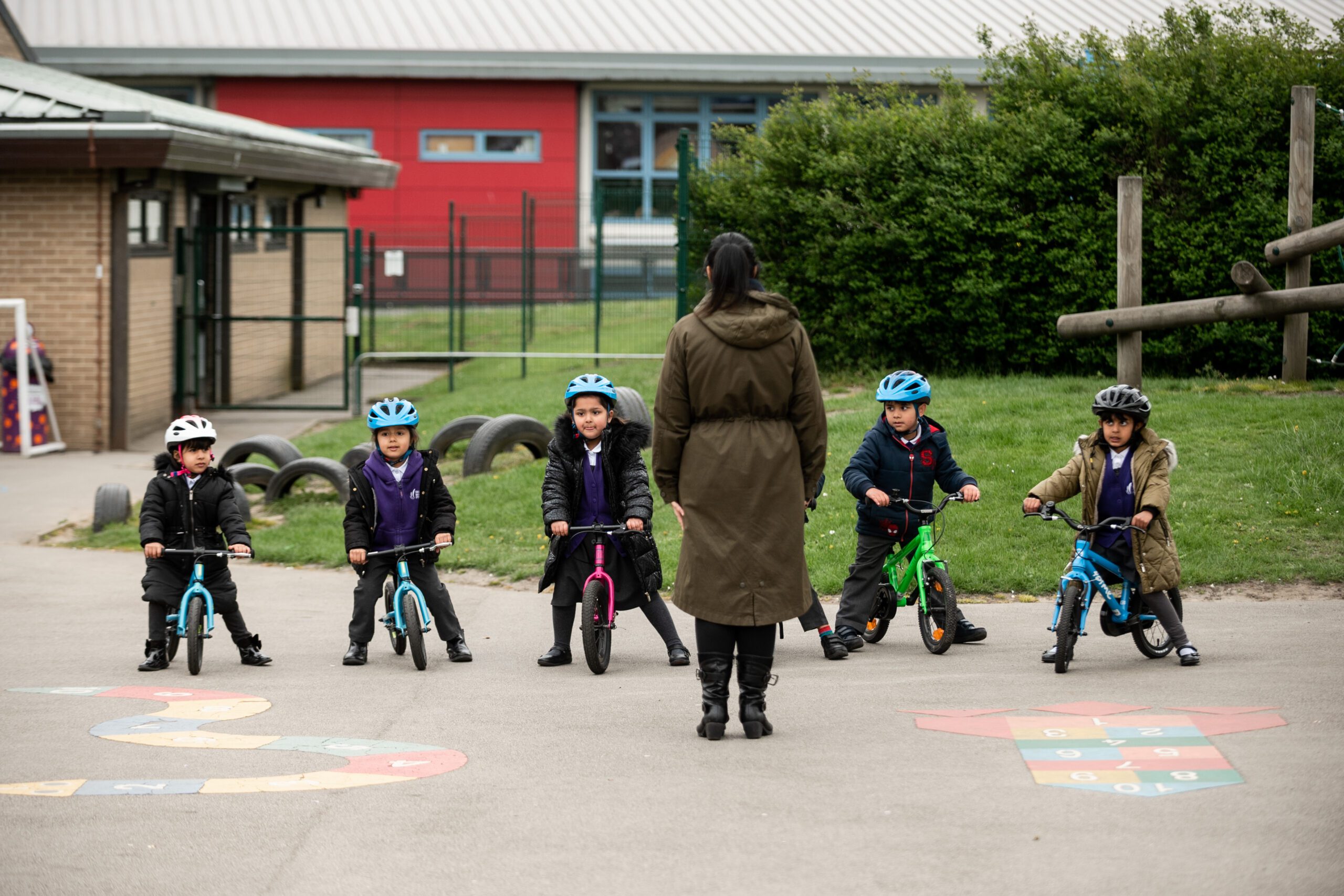 By embedding Bikeability into the curriculum, every child will receive cycle training from early years right through to when they leave primary school in Year 6. Through their secondary education, teenagers will access more advanced Bikeability, which prepares them for longer journeys to college or work.
---
Teaching children to cycle is one of the most important things you can do to support the next generation in living a more sustainable life. Bikeability is about so much more than teaching children to cycle. It embeds healthy habits, protects the planet, and creates safer and more peaceful neighbourhoods. By the time the children of today have their own families, I hope we have given them all the skills they need to reach for their cycle, not their car key, for the school run.
Watch Emily Cherry  speak on the Equipping the Next Generation panel during Peace One Day's Education Live event, which took place on UN International Day of Education, 24 January.
Let's find your closest cycling course